Home slider




V International Central and Eastern European Investment Conference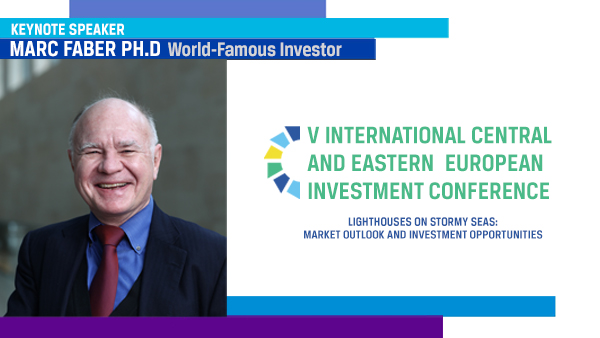 CFA Society Poland and CFA Institute are pleased to announce V International Central and Eastern European Investment Conference to be held in Intercontinental Warsaw, Poland on November 18th 2016. 
V CEE Investment Conference is the top investment industry event  in Poland, organized by the CFA Society Poland and supported by the CFA Institute. One-day conference  will cover four panels with notable speakers and offer the possibility to hear various ideas and opinions on issues of investment opportunities in the period of complicated geopolitical situation. It will feature a unique networking opportunity to make business contacts, strengthen collaborative efforts and launch new projects.
Conference's speakers include prominent economists, successful investors, government officials and policy makers, who share insights on today's investment climate issues, examine market trends, uncover new investment opportunities, and deliver practical investment advice
International Central and Eastern European Investment conference is an annual event, which is held every year in different European capitals. It gathers leaders of the largest financial institutions from all over the world, international investment banks and funds, professional consultants and financial market specialists, as well as representatives of the major business mass media to discuss actual topics of investment potential of the CEE region. First CEE Investment Conference took place in Bucharest in April 2012, Second in Moscow in April 2013, Third in Istanbul in November 2014, Fourth in Kyiv 2015 gathering over 300 influential investment professionals concentrating on the region.
The organization process of the events of the CFA Society Poland, including CEE Investment Conference  remains free from direct corporate or political influence making it a unique and independent networking environment.
Organizer will provide simultaneous translation of the conference' speeches.
AGENDA:
08:00– 08:45

Registration and welcome coffee 

08:45 – 09:00
Welcome speech and introduction 

09:00 – 09:20

Opening speech

09:20 – 10:30

Panel discussion: Domestic politics versus sovereign ratings


Moderation:


10:30 – 10:50
Networking Coffee Break 
10:50 – 11:40

Keynote speech

11:40 – 12:40

Panel discussion: Collaboration for developing and integration of financial markets in CEE Region


Speakers:


Moderation:


12:40 – 13:00
Networking coffee break 
13:00 – 13:50

Panel discussion: How Presidential Elections in the US will affect the Financial Markets in CEE Region


Speakers:


Moderation:


13:50 – 14:40

Lunch

14:40 – 15:40

Panel discussion: Recommendations, valuations, portfolio models


Speakers:


Moderation:


15:40 – 16:00
Networking coffee break 
16:00 – 17:00

Panel discussion: The role of debt market: sourses of financing big and medium-size enterprises


Speakers:


Severin Vartigov, MBA, Deputy CEO, Bulgarian Energy Holding

Moderation:


17:00 – 18:00

Panel discussion: Trump: a game changer? How to adjust the portfolios


Speakers:


Moderation:


18:00 – 18:05
Closing Remarks
18:05 – 20:00
Cocktail Reception